Custom Laravel Design & Development Solutions
Laravelframework versatility is geared towards generating result-oriented web development solutions for a diverse range of industry ve0rticals and domains.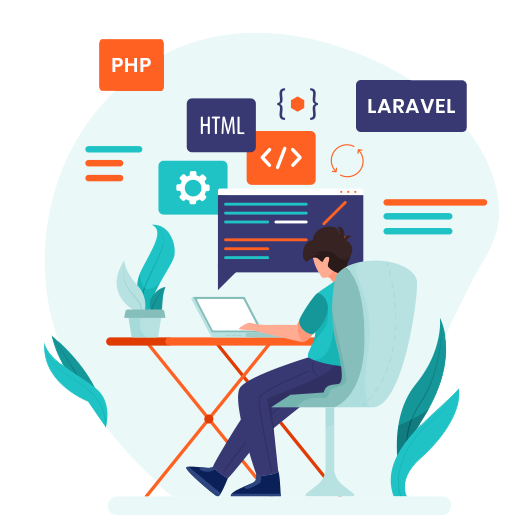 Top Five Reasons to Choose Laravel
Enhanced Traffic Management
Multilingual Capabilities
Wide Range of Configurations and Libraries
Laravel, a well-known open-source framework, offers a plethora of fantastic options and capabilities for developing complicated projects more quickly. Laravel offers a series of security options that enable you to decrease Laravel risks in your application. Another reason to choose Laravel over other PHP frameworks is its ease of integration with an AJAX request or a valid token form. Laravel has the following advantages:
Let's make the website building process better, faster, and more compelling with Erico.
Laravel is an open-source, PHP-power website development framework offering unmatched user-friendliness in easy-to-read codes. The technology has established its reputation as a popular PHP web app framework guaranteeing robust feature integration and long-term sustainability. Laravel's expressive, straightforward, and rich linguistic structure guarantees smooth organization, productive troubleshooting, and simple learning. Let your applications rejuvenate with numerous mechanics like basic validation, directing, line library, and ORM, among others.
Laravel has become one of the most-accepted PHP-based structures inventively creating portable web applications. Arrange structure, create, test, and keep Larave-powered websites and web apps that keep user engagement at the forefront.
The Laravel framework's popularity is subjected to its far-fetched features. With extensive community support, Laravel eliminates common website design and development hassles – caching, sessions,routing, and authenticating. With the Laravel framework, developers can now easily transform the web development process keeping web functionality and feature intact and undisturbed. With object-oriented libraries, security elements, database migration capabilities, eloquent ORM, object-oriented libraries, task scheduling and management support, among other features, render Laravel are the most trusted web app development framework for big and small businesses.
Erico has been working with industry leaders and the top talent pool to deliver you Laravel-powered websites that convert!
Laravel Website Development Features
Laravel remains the most widely used PHP framework that is both popular, and proficient, representing diverse features like database migration system, artisan tool, and security, among others. Some exclusive Laravel features include:
Coding authorization techniques
Credible ORM implementation
Enable modular functionalities
Innovative template engine
Tools for program automation
Ambitious Business Goals Achieved with the Right Framework – Laravel
Improved Website Performance
Robust website and web apps development become easy with Laravel frameworks.
Quick and simple website development with top-quality security protocols guaranteed.
Simple Website Maintenance
Website maintenance becomes simple and easy with Laravel frameworks by your side.
Elegant and Expressive Laravel Web Development Syntax
Erico's expertise in Laravel-powered website design and development includes:
 CUSTOM LARAVEL DEVELOPMENT
CUSTOM LARAVEL DEVELOPMENT: ECOMMERCE, SAAS, ETC
LARAVEL APPS INTEGRATION WITH EXTERNAL API
LARAVEL APPLICATION DEVELOPMENT
LARAVEL APPLICATION DEVELOPMENT
LARAVEL WEBSITE DEVELOPMENT
Laravel-Powered Web App Design & Development Solutions
Erico leverages the power of sophisticated Laravel-powered web app development solutions to brainstorm, design, develop, and deploy actionable web-based applications for your business.